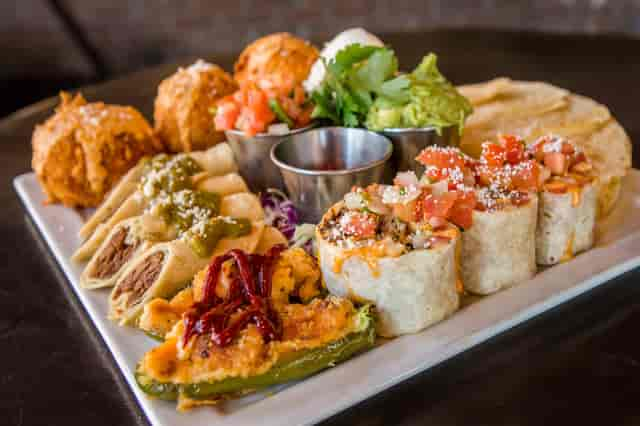 Fundraising
Plan your next fundraising event with us!
Host your school, club, or sports team at our restaurant and we will give you back 20% on all food sales.

Connect with the General Manager at least 30 days prior to your fundraiser date. You and the restaurant General Manager will discuss the details of your organization. Mondays and Thursday are the days available for fundraisers.

Once your fundraiser is approved, you can begin spreading the word! Follow these easy steps below to ensure your fundraiser night is a success.

1. 𝗦𝘁𝗮𝗿𝘁 𝘁𝗵𝗲 𝗽𝗿𝗼𝗰𝗲𝘀𝘀 𝗲𝗮𝗿𝗹𝘆: We request 30 days notice prior to your desired fundraiser date. This allows plenty of time for you to spread the word and for us to prepare for your fundraiser.

2. 𝗗𝗶𝘀𝘁𝗿𝗶𝗯𝘂𝘁𝗲 𝗳𝘂𝗻𝗱𝗿𝗮𝗶𝘀𝗲𝗿 𝗳𝗹𝘆𝗲𝗿: The General Manager will provide you one copy of the fundraiser flyer for you to produce more of and distribute. We recommend you make physical and digital copies. The success of your fundraiser depends on the number of people that attend. For example, if you'd like to raise $200, you will need to bring in $1,000 worth of sales (based on a 20% donation). 𝗡𝗼𝘁𝗲: In order for the sales to be tracked, the guest must bring in the paper fundraiser flyer. Handing out fundraiser flyers in the restaurant the night of your fundraiser is prohibited.

3. 𝗔𝗳𝘁𝗲𝗿 𝘁𝗵𝗲 𝗲𝘃𝗲𝗻𝘁: You should receive your check with the money your organization raised 14 days after the night of the fundraiser. If you don't, please contact the restaurant General Manager.

Thank you for thinking of Casa Ranchero for your next fundraiser night and we look forward to working with you!